What you will need
A paper and pencil. . .really
Adobe Photoshop
The Source Files:
Part One: Think of an idea
I have an idea. . . . .let's do a home icon! OK moving on.
Part Two: Sketch out your idea
Before I begin any creative project I always make a sketch, whether it is a literal sketch with pencil and paper or a written description. It's crucial to get your ideas out first so that you aren't simultaneously trying to come up with ideas while you're tackling with the technical aspects of creating it (such as getting the gradient tool to work).
Take out a piece of white paper (8.5 x 11 is good) and a pencil.
Start sketching out some ideas for a home icon. How big is the building compared to the roof? Is there a door? Windows? Think about all of these things as you sketch, don't worry about making the drawings perfect. (If they communicate your idea to you then that's all you need.)
My sketches
Take a look at the sketches below to see my process.
At first I thought I would go with a 2-d look but after drawing this I felt I could do more.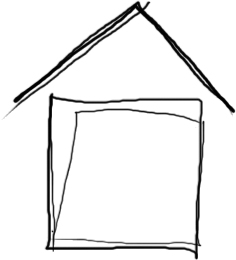 I did another sketch, this time with a 3-d look. I liked the direction I was going in but I didn't like the orientation of the roof and I felt the building was a bit too long.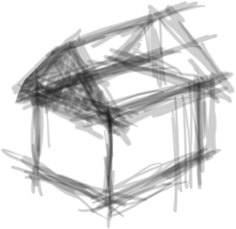 I thickened the lines and made the roof small compared to the building to give it a more cartoon feeling.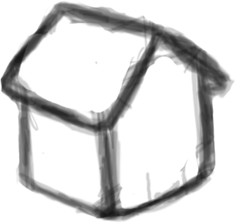 So now that I had a shape that I was happy with, I took some more time to develop my idea further. I also began experimenting with color composition.

Make sure you have a strong silhouette
Before making your final decision about the sketch it's a good idea to see if the line of action or silhouette is strong. Remember that this icon is going to be very small and a strong contour is important.
Notice that even without all the extra information you can still tell that it's a building. In this case I even asked my brother to come and tell me what this looks like.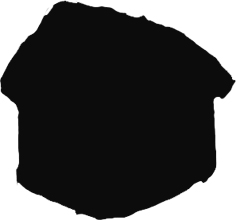 Now let's open Photoshop. . .